Previous Calendars: All / All 2015 / Spring 2014 / Spring 2013 / Fall 2012 / Spring 2012 / Fall 2011
Spring 2012
Tuesday, Nov 20: DOUBLE TAKE, a film by Johan Grimonprez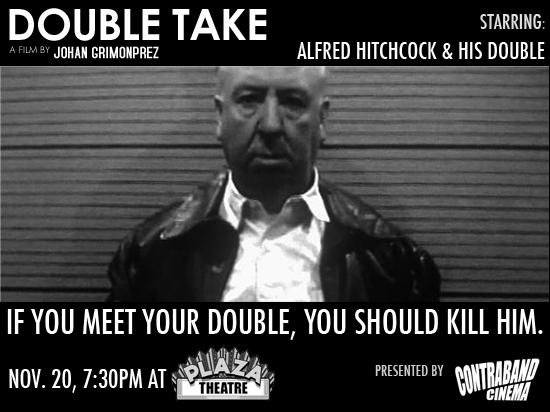 A film by Johan Grimonprez
$6. Tuesday, November 20th @ 7:30pm at the Plaza Theatre
"If you meet your double, you should kill him." Coinciding with the Plaza Theatre's Hitchcock month, Contraband Cinema presents a feature length cinematic speculative tale of odd couples and double deals involving the life of Alfred Hitchcock, his double, the cold war, space race, sexual politics, and television's attack on cinema. Filmmaker Johan Grimonprez weaves clips from Hitchcok's film and television productions, 60's era television commercials and re-enactment to produce this smart, hilarious, and award winning documentary. (2009, 80min, B&W/Color)

Tuesday, Oct. 2nd: Sports: Observations and Criticisms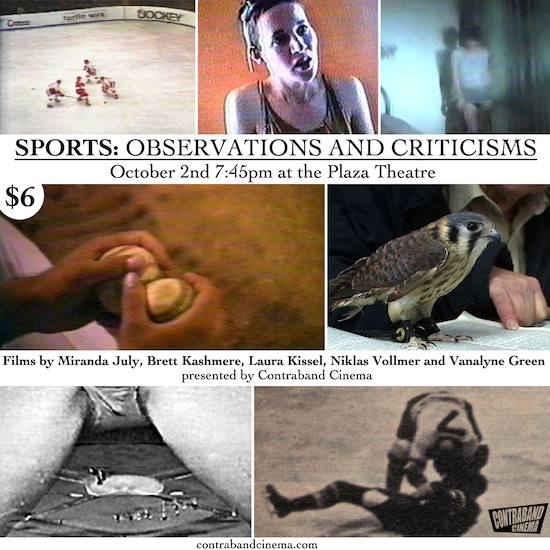 Films by Miranda July, Brett Kashmere, Laura Kissel, Niklas Vollmer and Vanalyne Green
$6. Tuesday, October 2nd @ 7:45pm at the Plaza Theatre
Contraband Cinema exhibits a selection of films that present both critical and profound observations on organized sports. Miranda July plays a 12 year old swimmer and her mother who is "not pushing her [daughter] too hard" to prepare for the 1996 Atlanta Olympic Games; Brett Kashmere explores the glitch in Canada's national identity and its violence in hockey; Laura Kissel and Niklas Vollmer get to the bottom of the false gender identity of the Atlanta Falcons football team; and Vanalyne Green reinterprets baseball's symbolism and its womblike landscape into an homage to the female.

Saturday, Sept. 15: LIVE PERFORMANCE Inner/Outer Space
Gregory Zinman (video). Leo Goldsmith + Nat Hawks = Christian Science Minotaur (electro-acoustics)
$7. Saturday September 15th @ 8pm at 489 Edgewood
Taking its name from works by Andy Warhol and Robert Breer, Inner/Outer Space presents a live video mix exploring the space race and psychedelic consciousness expansion. The A/V journey brings together interstellar NASA footage with abstract depictions of interiority via the films and videos of Stan Brakhage, José Antonio Sistiaga, Adam K. Beckett, Jim Davis, Ture Sjölander, Elias Romero, and others.

Featuring a live musical score by Brooklyn electro/acoustic folk-psych masters Christian Science Minotaur (www.myspace.com/littlefurythingsrecords)).