Tuesday, Oct. 2nd: Sports: Observations and Criticisms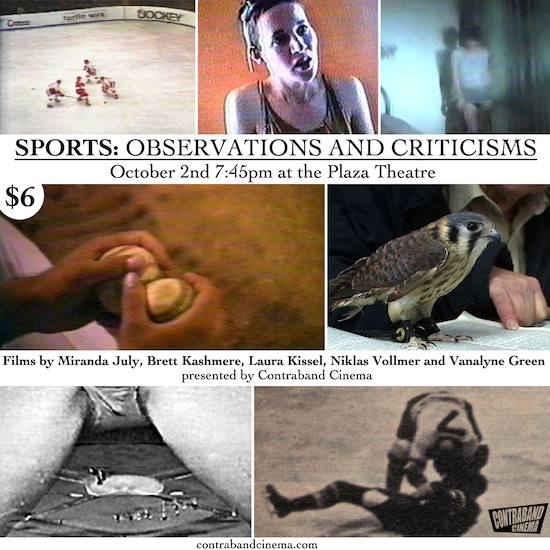 Films by Miranda July, Brett Kashmere, Laura Kissel, Niklas Vollmer and Vanalyne Green
$6. Tuesday, October 2nd @ 7:45pm at the Plaza Theatre
Contraband Cinema exhibits a selection of films that present both critical and profound observations on organized sports. Miranda July plays a 12 year old swimmer and her mother who is "not pushing her [daughter] too hard" to prepare for the 1996 Atlanta Olympic Games; Brett Kashmere explores the glitch in Canada's national identity and its violence in hockey; Laura Kissel and Niklas Vollmer get to the bottom of the false gender identity of the Atlanta Falcons football team; and Vanalyne Green reinterprets baseball's symbolism and its womblike landscape into an homage to the female.

PROGRAM:
Atlanta; Miranda July, 1996, video, 10 min, color
A 12-year-old Olympic swimmer and her mother (both played by July) speak to the public about going for the gold.
Valery's Ankle; Brett Kashmere, 2006, video, 33 min, color and b&w
Valery's Ankle explodes the spectacle of hockey violence and its representation in North American media. Taking Bobby Clarke's breaking of rival Russian star Valery Kharlamov's ankle during the 1972 Summit Series as its departure point and site of research, the film uncovers a disturbing history of unforetold and abject Canadian behavior.
Unfettering The Falcons; Laura Kissel & Niklas Vollmer, 2007, video, 10 min, color
Part road movie, part nature documentary, Unfettering the Falcons questions the false gender identity of the Atlanta Falcons football team via identical twin bird of prey experts who spark a quirky courtship between an American Kestrel (falcon) and a has-been 1991 Toyota Tercel (the "falcon" is a female bird a third stronger and larger than its male counterpart, the "tercel").
A Spy In The House That Ruth Built; Vanalyne Green, 1989, video, 30 min, color
Thinking of herself as a spy assigned by the female sex, Green reinterprets baseball's symbolism—its womblike landscape, its cycles and rituals—and constructs an iconography that pays homage to the female. In one magnificent montage, numerous phallic symbols pass by as Green sees the real purpose of the game: baseball is the only sport about returning home—and where is home...? In a mother's belly. With humor and irony, Green creates a tape that is both a personal revelation and a heretical portrait.