Thurs. 10/6: Memory Ciphered in Celluloid
Helen Hill + Bill Morrison + RUDERMEDIA (Orphan films)
Thursday October 6th @ 8pm at the Plaza Theatre
Film has always been an adversary of time. Whether it functions to recall, preserve, or condition, each of these films employs memory as the operational motive. Helen Hill's The Florestine Collection is husband Paul Gailiunas' recollection of her through the restoration and completion of her final film; Bill Morrison's The Film of Her witnesses a dissident desire to preserve film's earliest memories; and RUDERMEDIA's Film Education, a cluster of 16mm educational films, demonstrates an attempt to alter collective cognizance. This exhibition of memory soaked cinema will screen at the Plaza Theatre, currently enduring its own campaign against the march of time.
$6 admission. Come early to memorialize the occasion with 5 free seconds in the Super-8 Filmbooth.
Trailer for the show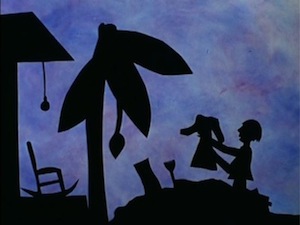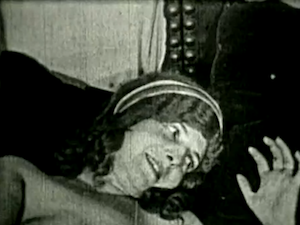 The Florestine Collection

— The Georgia premiere of the final film by experimental animator Helen Hill as completed by her husband, Paul Gailiunas. It capsulizes their time in New Orleans, leading up to Hurricane Katrina and her untimely death. The film exists as a memory ciphered in flood damaged home movies and the salvaged sections of Hill's animation. (Documentary/Animation, 31 min, 16mm)

The Film of Her

— Bill Morrison's archival/collage tribute to a Library of Congress clerk who risked bodily injury to rescue paper film prints from the incinerator — saving hundreds of film's earliest memories. While attention was diverted toward the films, the story of the man who saved them became invisible to history. (Archival/Documentary, 16mm, 16 min)

Film Education

— Film enthusiast and Plaza Theatre manager Ben Ruder will be showing 16mm films from his personal collection, as well as representing the Plaza as a safehouse for rare and unusual film. Come for a glimpse into a time when 16mm was a regular instructional medium. (16mm)
Helen Hill / Paul Gailinus
Employing ingenious and resourceful DIY methods, documented in her book Recipes for Disaster, Helen Hill created films and taught filmmaking at the academic and community level. She was much loved in the experimental animation community and continued to work until 2007 when she was killed in New Orleans during a home invasion. She is survived by her husband Paul Gailiunas, their son, two cats and a potbellied pig. There are several awards dedicated to the memory of Helen.
Bill Morrison
A master at archival retrieval and montage, Bill Morrison certainly occupies the top rung of international cine-poets mining the rich veins of cinema past. Morrison is most known for his film Decasia, a feature length presentation of the state of decay on archival films.
Ben Ruder / RUDERMEDIA
As a projectionist, theatre manager and film collector, Ben Ruder is one of the hardest working people in Atlanta for the cause of film.
Craig Baldwin / Other Cinema
Craig Baldwin is a filmmaker and steward of Other Cinema in San Francisco. It is with his support and direction Contraband Cinema has been launched.