Fri. 6/13: Women with Knives in Atlanta
$5 suggested donation. Friday June 13th 8pm at MINT Gallery
Experimental animators Kelly Gallagher, Lauren Cook, and Charlotte Taylor take to the road with their handcrafted films, bringing their award winning works across the east coast summer 2014. The lineup features short experimental animation on 16mm & video, and includes no less that TWO films in 3D!!! Yay for film!!!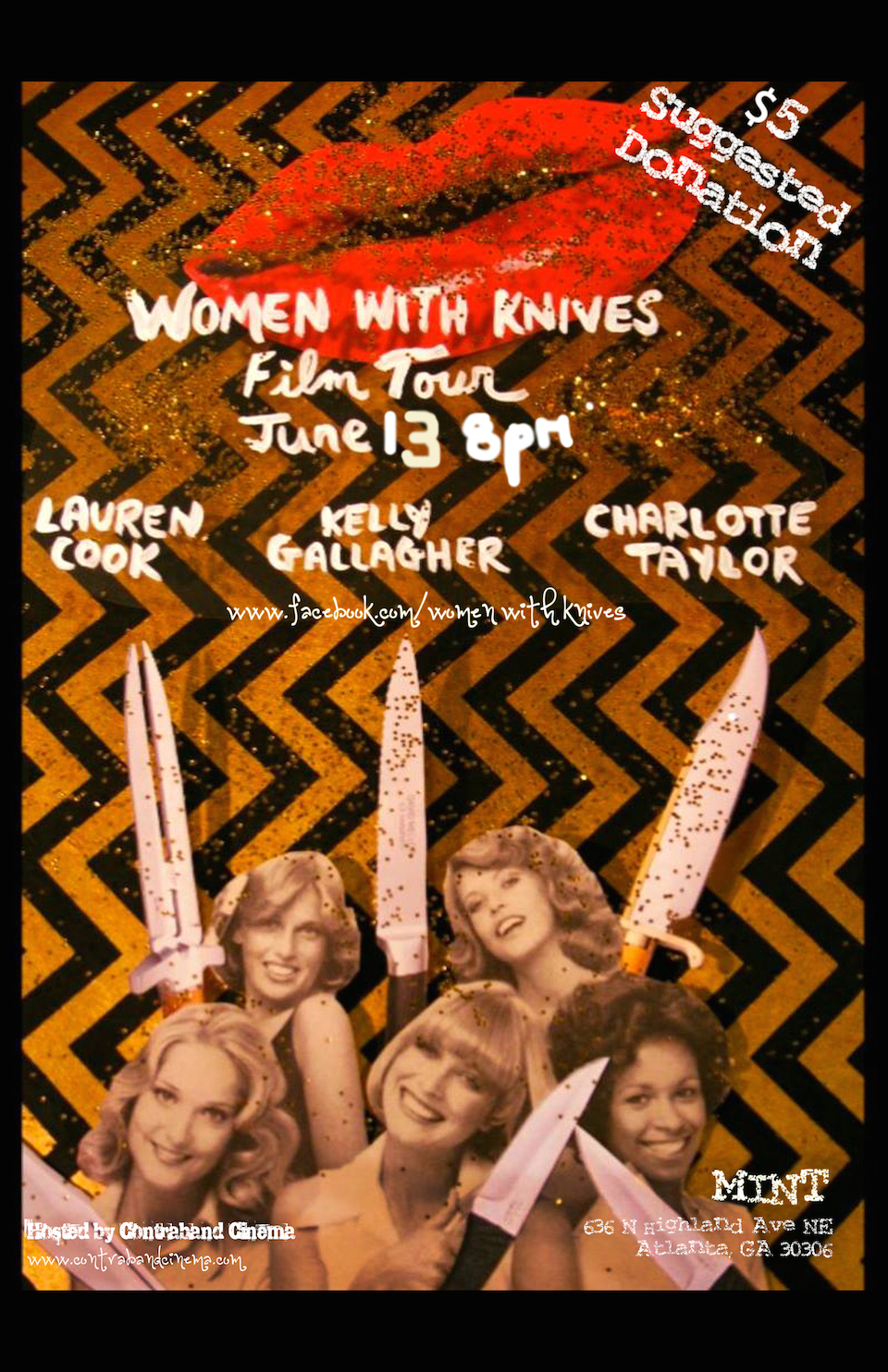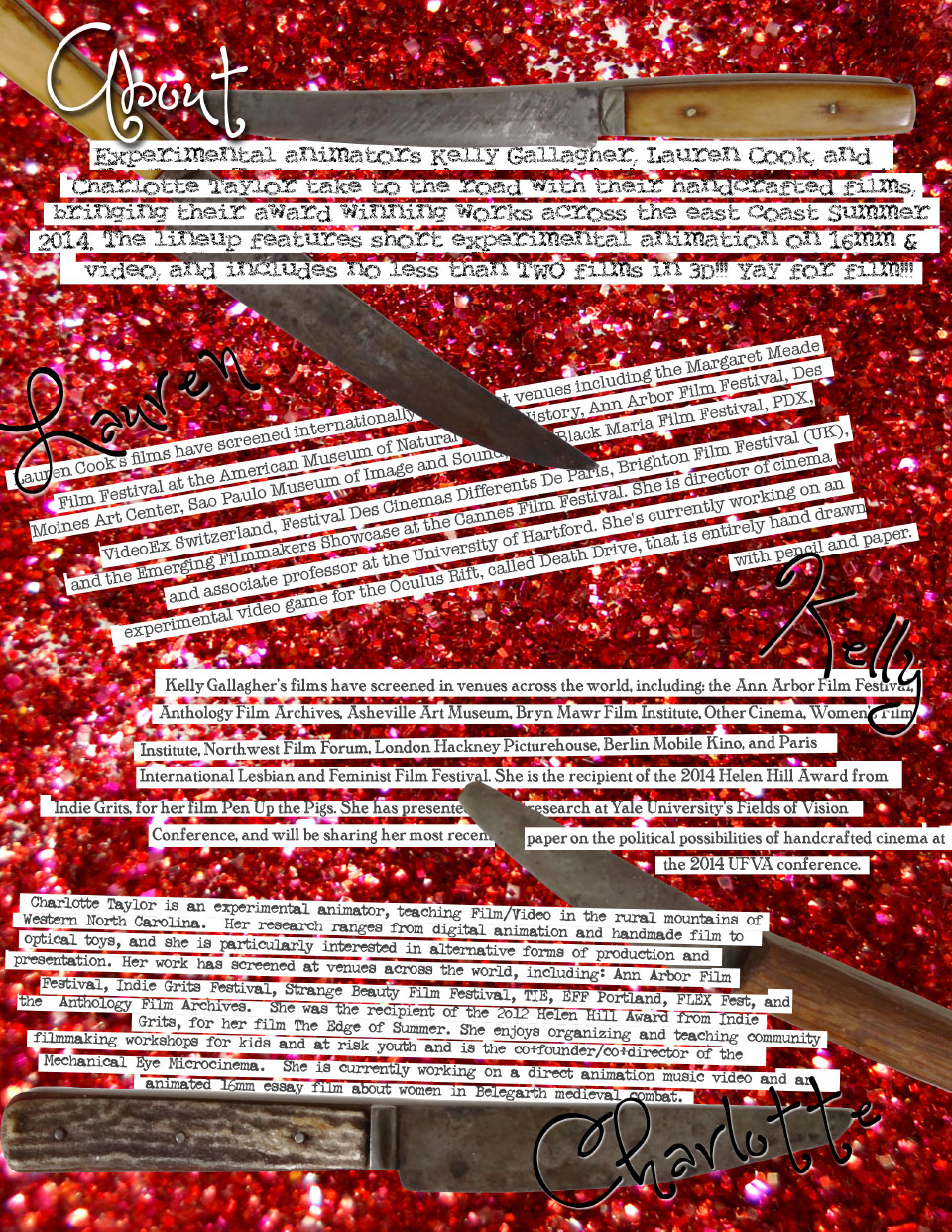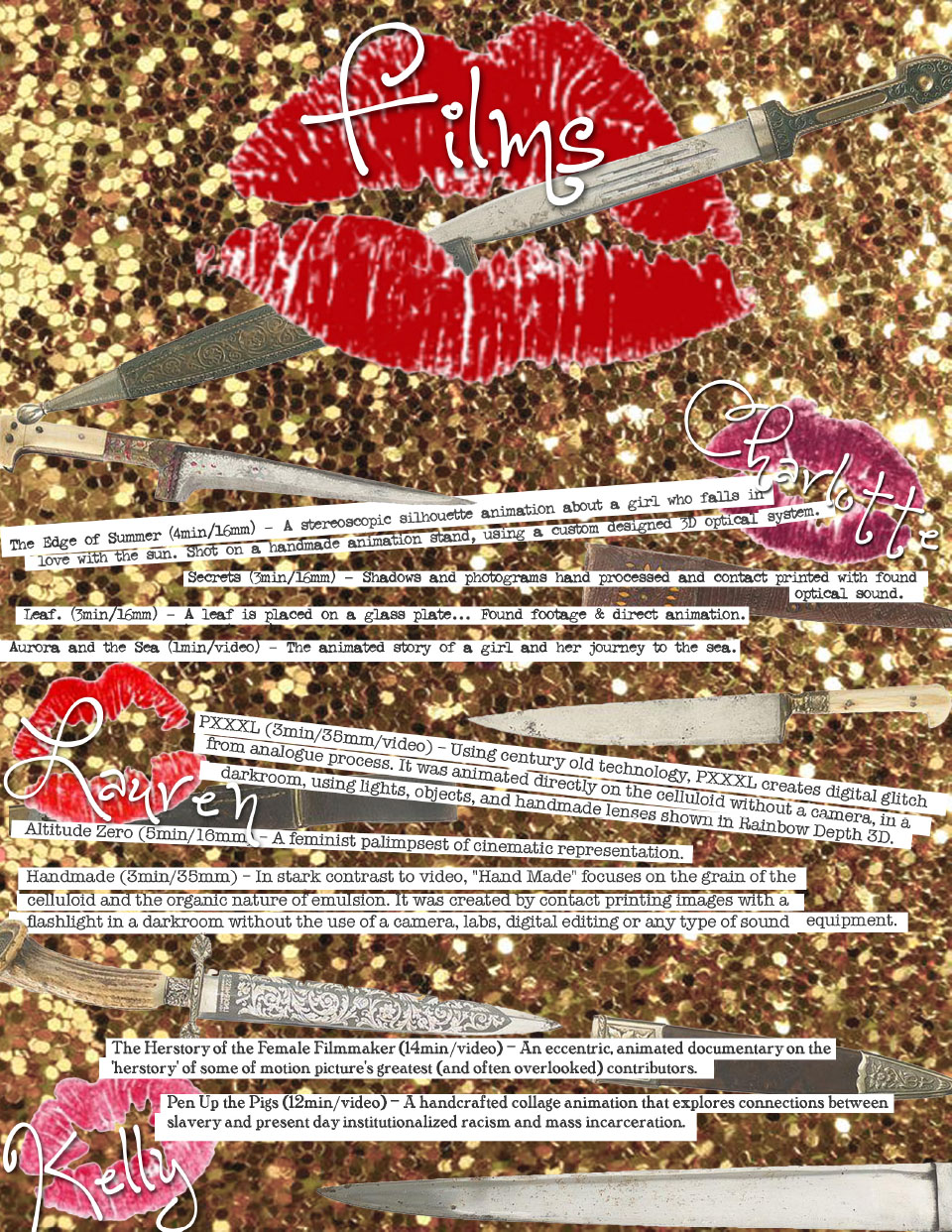 Lauren Cook's films have screened internationally at venues including the Margaret Meade Film Festival at the American Museum of Image and Sound, Black Maria Film Festival, PDX, VideoEx Switzerland, Festival Des Cinemas Differente De Paris, Brighton Film Festival (UK), and the Emerging Filmmakers Showcase at the Cannes Film Festival. She is director of cinema and associate professor at the University of Hartford. She's currently working on an experimental video game for the Oculus Rift, called Death Drive, that is hand drawn with pencil and paper.
Kelly Gallagher's films have screened in venues across the world, including: the Ann Arbor Film Festival, Anthology Film Archives, Asheville Art Museum, Bryn Mawr Film Institute, Other Cinema, Women's Film Institute, Northwest Film Forum, London Hackney Picturehouse, Berlin Mobile Kino, and Paris International Lesbian and Feminist Film Festival. She is the recipient of the 2014 Helen Hill Award from Indie Grits for her film Pen Up The Pigs. She has presented research at Yale University's Fields of Vision Conference, and will be sharing her most recent paper on the political possibilities of handcrafted cinema at the 2014 UFVA conference.
Charlotte Taylor is an experimental animator, teaching Film/Video in the rural mountains of Western North Carolina. Her research ranges from digital animation to handmade films to optical toys, and she is particularly interested in alternative forms of production and presentation. Her work has screened at venues across the world, including: Ann Arbor Film Festival, Indie Grits Festival, Strange Beauty Film Festival, TIE, EFF Portland, FLEX Fest, and the Anthology Film Archives. She was the recipient of the 2012 Helen Hill Award from Indie Grits for her film The Edge of Summer. She enjoys organizing and teaching community filmmaking workshops for kids and at risk youth and is the co-founder/do-director of the Mechanical Eye Microcinema. She is currently working on a direct animation music video and an animated 16mm essay film about women in Belegarth medieval combat.
FILMS!
Charlotte
The Edge of Summer (4min/16mm) - A stereoscopic sillhouette animation about a girl who falls in love wit the sun. Shot on a handmade animation stand, using a custom designed 3D optical system.
Secrets (3min/16mm) - Shadows and photograms hand processed and contact printed with found optical sound.
Leaf. (3min/16mm) - A leaf is placed on a glass plate... Found footage & direct animation.
Aurora and the Sea (1min/video) - The animated story of a girl and her journey to the sea.
Lauren
PXXXL (3min/35mm/video) - Using century old technology, PXXXL creates digital glitch from analogue process. It was animated directly on the celluloid without a camera, in a darkroom, using lights, objects, and handmade lenses show in Rainbow Depth 3D.
Altitude Zero (5min/16mm) - A feminist palimpsest of cinematic representation.
Handmade (3min/35mm) - In stark contrast to video, "Hand Made" focusses on the grain of the celluloid and the organic nature of emulsion. It was created by contact printing images with a flashlight in a darkroom without the use of camera, labs, digital editing or any type of sound equipment.
Kelly
The Herstory of the Female Filmmaker (14min/video) - An eccentric, animated documentary on the 'herstory' of some motion picture's gretest (and often overlooked) contributors.
Pen Up the Pigs (12min/video) - A handcrafted collage animation that explores connections between slavery and present day institutionalized racism and mass incarceration.