Fri. & Sat. 7/11-12: The Visitor Art Show & Film Screening
Featuring: Actress Paige Conner, Mike Malloy and Atlanta artists
July 11th & July 12th 7pm
Eyedrum Gallery, Atlanta, Georgia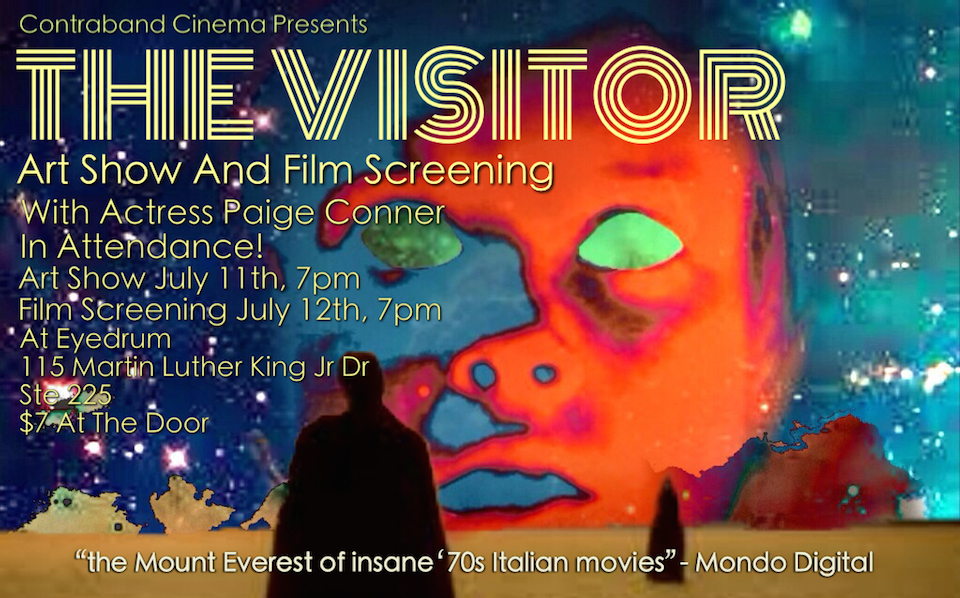 Contraband Cinema is proud to present a two-night event devoted to the film Mondo Digital calls "the Mount Everest of insane '70s Italian movies" - The Visitor. Filmed in Atlanta in 1979, this overlooked cult classic serves as a time capsule of our beloved city by capturing iconic mainstays such as the Omni Hotel, 11 Alive and CNN Center.
Welcome to the weird world of The Visitor, a bizarre genre mash-up that has continued to leave audiences scratching their heads for over 30 years. Drafthouse Films have blindsided cinema fans by re-releasing a lovingly restored and uncut version of this obscure and fascinating 70s gem.
Attempting to describe the plot of the film is a delightful challenge.
Is it a science fiction version of The Bad Seed?
The Omen meets Close Encounters of the Third Kind?
You be the judge!
Starring an impressive line-up of cult movie personalities that range from Lance Henrikson (Aliens) Franco Nero (Django) and Joanne Nail (Switchblade Sisters) to classic movie legends Glenn Ford (Gilda), director John Huston (The Maltese Falcon), Shelley Winters (The Poseidon Adventure)...and Sam Peckinpah (director of The Wild Bunch)?!
Watch the Trailer
On Friday, July 11th, Contraband Cinema in conjunction with Eyedrum will host a one-of-a-kind art exhibition that will feature new and original pieces based on this unique film by a variety of local artists.
The following evening, Saturday, July 12th, will be a screening of The Visitor with special guest, actress Paige Conner, who starred as the evil Katy Collins, a performance that has to be seen to be believed!
If you would like to be involved in The Visitor art show, contact us, or find us on Facebook or see more details here.