Fri. 2/10: Love/Not Love - Handmade Feminist Films
Jennifer West + Carolee Schneemann's + Naomi Uman + Jennifer Reeves
Friday February 10th @ 8pm at Beep Beep Gallery
$6 recommended donation
On the eve of Valentine's Day comes a lovers' brew of erotic, experimental, handmade, feminist films presented by curator, writer, and scholar Gregory Zinman. Fuses (1964-67) is Carolee Schneemann's controversial classic—a silent celebration of lovemaking from a woman's perspective. In Naomi Uman's Removed (1999), the filmmaker takes a dubbed European 1970s porn film and proceeds to erase the figure of the woman, frame by frame, using nail-polish remover and bleach. The Girl's Nervy (1995) is a hand-painted film by Jennifer Reeves boasting exhuberant rhythms that dance to big band beats. Jennifer West's Riot Grrrl Alchemy Film makes a beautiful mess by taking inspiration from the lyrics of Sleater Kinney, Bikini Kill, and Le Tigre. Films presented on 16mm and video.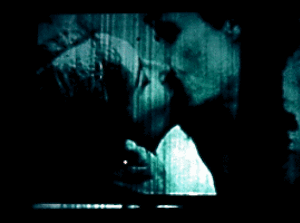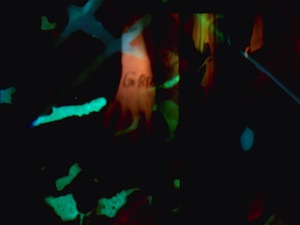 Curator:
Gregory Zinman, Ph.D., is an Adjunct Professor in the Department of Cinema Studies at New York University, where he recently completed a dissertation on handmade cinema. He is also a curatorial consultant to the Smithsonian American Art Museum and the Yale University Art Gallery, and has written on film, art, and culture for The New Yorker, American Art, and the Guggenheim Museum online.
Filmmakers:
Jennifer Reeves (b. 1971, Sri Lanka) is a New York-based filmmaker working primarily on 16mm. Her films have shown extensively, from the Berlin, New York, Vancouver, London, Sundance, and Hong Kong Film Festivals to many Microcinemas in the US and Canada, the Robert Flaherty Seminar, and the Museum of Modern Art.
Carolee Schneemann (b. 1939, Fox Chase, PA) is a multidisciplinary artist based in New Paltz, New York. Her painting, performance, and filmmaking are discourses on the body, sexuality, and gender. The history of her work is characterized by research into archaic visual traditions, pleasure wrested from suppressive taboos, and the body of the artist in dynamic relationship with the social body. She has shown her artworks at Los Angeles Museum of Contemporary Art; Whitney Museum of American Art; Museum of Modern Art, NYC; Centre Georges Pompidou, Paris; and most recently in a retrospective at the New Museum of Contemporary Art in New York entitled "Up To And Including Her Limits". Film and video retrospectives of her work have played at Centre Georges Pompidou, Paris; Museum of Modern Art, NY; National Film Theatre, London; Whitney Museum, NY; San Francisco Cinematheque; Anthology Film Archives, NYC.
Naomi Uman (b. 1962, New York) lives in Mexico City and Los Angeles. Her films have been exhibited widely at the Sundance and Rotterdam International Film Festivals, The New York Film Festival, and the San Francisco International Film festival among others; she has also screened her work at The Guggenheim Museum, The Whitney, The Smithsonian, and Mexico City's Museo de Arte Moderno.
Jennifer West (b. 1966, Topanga, CA) lives and works in Los Angeles, CA, and has exhibited widely internationally with solo exhibitions in 2011 at Vilma Gold, London, and Franklin Art Works, Minneapolis. She has also presented solo exhibitions at the Contemporary Arts Museum, Houston, Western Bridge, Seattle and Kunstverein Nürnberg (all 2010). In the UK, West has exhibited with George Ziffo at Transmission Gallery, Glasgow, 2008, and was featured in the 2007 exhibition, If Everybody had an Ocean, at Tate St Ives. In 2009 she was commissioned to produce special project, Skate the Sky, for the Turbine Hall at Tate Modern, London, and in 2011 she was Artist in Residence at the MIT List Visual Arts Center in Cambridge Massachusetts.